Does Origins Wild Diet™ Stack Up?
We decided to do some comparing of our own...When we did this is what we found:
Guaranteed Analysis (GA):
(Not that a guaranteed analysis really holds much importance for our exotic birds; it was originally designed for ruminating mammals. Parrots are not mammals, they are aves in a class all their own. That's right, the GA was designed specifically for cattle. It was deisgned to measure the amount of nitrogen that burns off of protein. Exotic birds don't use nitrogen from protein, instead they use "real" protein, or "complete" protein. So a guaranteed analysis measuring "crude protein", that is nitrogen burned off from protein really doesn't tell us anything about the quality of protein in any given food for exotic birds.) *However, the one thing a guaranteed analysis does tell you is that the company you are buying from is a "legal pet food manufacturer". If you are buying from someone that does not have a guaranteed analysis on their foods, they do not have a pet food license and should not be formulating exotic bird food and selling to the public; AAFCO and the FDA does not look upon this as a good and ethical business practice, let alone safe. If a company is not willing to spend the money to test their foods it is likely they are also hiding other important and crucial details from you as well. View our licenses here.
BirD-elicious! Eclectus:
Crude Protein: 11.7% (min)
Crude Fat: 14.41% (min)
Crude Fiber: 7.2 (max)
Moisture 12.5 (max)
Organic Brand 1:
Crude Protein: 15% (min)
Crude Fat: 5.5% (min)
Crude Fiber: 6.5% (max)
Moisture: 10.0% (max)
A "Tooney" Brand:
Crude Protein: 15% (min)
Crude Fat: 5% (min)
Crude Fiber: 5% (max)
Moisture: 11% (max)
Livin' in the "Bush" Brand:
Crude Protein: 11.0% (min)
Crude Fat: 7.0% (min)
Crude Fiber: 3.5% (max)
Moisture: 12.0% (max)
"Zoo" Brand:
Crude Protein: 14.0% (min)
Crude Fat: 4.0% (min)
Crude Fiber: 5.0% (max)
Moisture: 10% (max)
Top 'O the Mornin' Brand:
Crude Protein: 13.0% (min)
Crude Fat: 12.0% (min)
Crude Fiber: 7.0% (max)
Moisture: Unavailable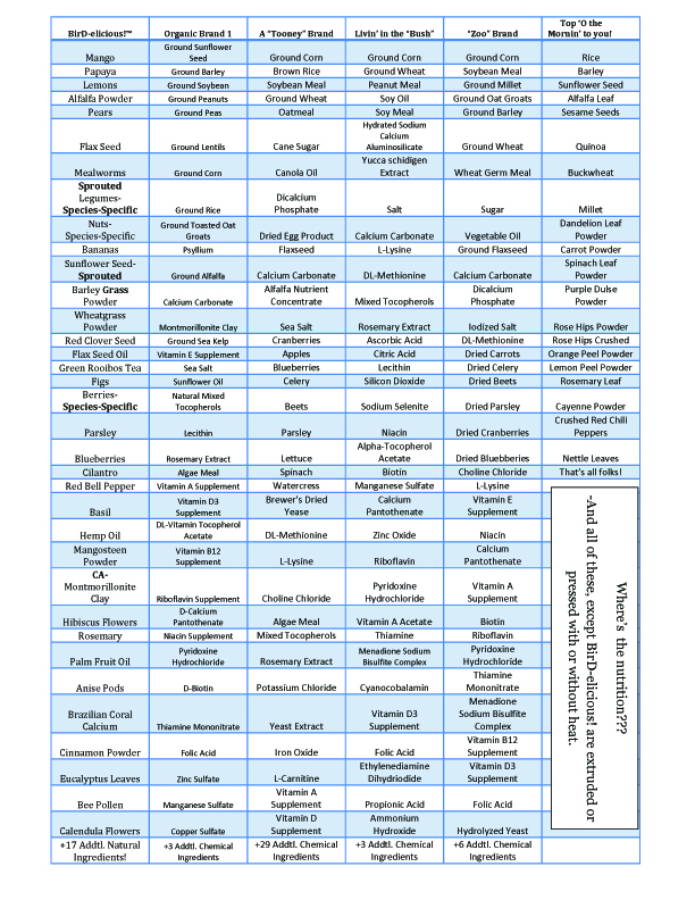 BirD-elicious! chooses to keep the protein levels in our food not too high, not too low because protein is used to regenerate muscle mass, such as the heart and all bodily muscles, not for energy. Good fats and essential carbohydrates are used for energy.
The fiber in BirD-elicious! will be slightly higer becuase we use whole-foods in our recipes, not ground up, pulverized powdered grains. The fiber in our foods will consist of naturally occurring fruit "pectin" and naturally occurring "hemicellulose", both soluble fibers that are easy on a parrot's digestive tract. They deliver nutrients and gently flush the tract; they do not leach the nutrients or scrape the tract, plus they allow the tract to remain moist and supple. This may potentially prevent the virus known as ABV that causes PDD.
The moisture is fairly high in our foods to help maintain digestive tract health and suppleness, plus it helps a parrot to swallow and properly digest its food preventing constipation that can aggravate prolapse.
Our wholesome, pure† species-specific foods are custom,hand-produced, by us, in our facility, then packaged and shipped by us. There is no out-sourcing of our products. Therefore producing your bird's food is very time and labor intensive.
By producing our foods in this manner you are ensured that your bird is the freshest food you can feed short of producing it in your own kitchen! Except you don't have to do any of the work yourself!
Our foods are not hard, dried out, card-board, dusty kibble bits. When you open the package you will be met with a fresh, spicy scent that birds are attracted to. And when you touch our food you will immediately notice how tender it is to the touch, like the foods birds consume in the Wild!
With over 30 to 50+ different ingredients in any one of our foods your bird is sure to obtain a large variety of nutrients from Origins Wild Diet™
All of our Origins Wild Diet™ foodsare now made with our Supercharged Sprouts™. This is our very own proprietary method of sprouting our seeds, legumes and grains that increase the trace minerals, amino acids and certain vitamins all by using naturally occurring, earth derived sources of these elements! No synthetics, no chemicals, no GMOs, no manures nothing artificial are used in our proprietary process.
*Now all of our OWD daily diets include digestive enzymes!
Keep checking back! We will be adding all of our over 15 species-specific diets as we re-formulate according to new research information!
What do I do in the meantime if you don't sell the variety of food for my species of bird?
There is really no "wrong" way to feed BirD-elicious! Origins Wild Diet to your bird!   That's the good news!
Because our foods are considered raw, fresh and almost whole-food nutrition without the use of synthetic, laboratory-produced vitamins you can feed almost any variety to just about any bird, within reason, and feel confident about using our foods!
Read the chart below to gain a good idea about which food to feed during the interim as we reformulate all of our over 15 different species-specific foods we will eventually have back on the market for many species of exotic companion birds!
Menu of Foods!
Click here to find out which variety of BirD-elicious! food you should order for your species of bird until we are producing all 15+ species-specific BirD-elicious! foods!You will see some species in two or more categories because we believe they will benefit from a mixture of both foods until we have their specific food formulated for their species.
Our foods have been imitated, but never duplicated!