No one can speak for our foods as well as our customers

and their flocks!
"The best food ever! Five stars! I received my first order and it is awesome! It smells fresh and delicious, no wonder even my picky Cockatiel is addicted to this healthy food. And you packing is great also. Thank you so much!" 
Y. Nakamura - Japan
"Hi Machelle! Just wanted to let you know we used your baby bird formula (Baby Beaks)  on a baby albino cockatiel that had developed sour crop and your formula cured it!! It was the only thing we did different as soon as she showed symptoms. Now she's pretty much weaned and healthy as can be!!"
Allison L. - CA
"Mickey got a clean bill of health at his checkup last night. His vet pointed out signs of his aging. See the pale orange appearing on his flight feathers? How crazy is it that humans gray as they age while CAGs gain color?
Machelle Pacion deserves praise for providing a food mix that helps enable him to age so well."
Adrienne A. - IL
Mickey
"I just received my first order in the mail. I cannot begin to tell you how IMPRESSED I am with the entire experience. From the packaging, to the Thank You card, to the extra toys....THANK YOU SO MUCH! WOW!!!
I stumbled upon The Best Bird Food a couple of weeks ago. I had been searching for a better quality bird diet for quite a while. I have a 21-year old cockatiel named Squeeky. I got him when he was 9 weeks old (I was in 6th grade then). He has been with me his entire life and he means the absolute world to me.
I recently completed a graduate degree in Human Nutrition and Functional Medicine. I admit that my passion for nutrition has been extended to each of my animal companions. (My bird) was recently diagnosed with a testicular tumor, though we believe it to be benign. As a result, he receives Lupron injections every 3 weeks. I just want you to know that this new food will be appreciated and enjoyed by my wonderful cockatiel as he continues to be a little fighter. I'm so grateful to your company, your contribution to PEBS, and ALL of your efforts to support flocks around the world. I will certainly order again in the future. I ordered 2 bags, so it might be a while before I order again. Nonetheless, please know that I am incredibly grateful to you and your company. 
Thank you for your service!"
Rachel M. & (Feathered Friend) - WA
"Good morning. I want to thank you for the 'light speed' delivery of my order. What a surprise to receive it on Memorial Day! I immediately hung the toys in cages and I can't tell you how thrilled I am that my flock loves the Eclectus mix. 
My sprouts are 'cooking' on the kitchen counter and should be ready in another day or two, after a final rinse. I have told my avian friends about your food and I hope they will research your site and order.
I would like to ask;  if I order some African Grey food, can it be sent to a friend in Oklahoma (using my credit card). I would like her to try something new and nutritious. Like me previously, she feeds XYZ pellets and I'd like her to see how superior your food is.
Thank you again for the toys, super fast delivery and an awesome food product!"
                                                                           Andrea F. - CO
"Dear Machelle,
Thank you thank you thank you!!!
The order you sent is wonderful beyond words!!
Beautiful healthy products, amazing packing, super fast delivery, I am so excited that I found you and your amazing products. I just keep shaking my head and smiling and saying "finally". I'm literally blown away to know that someone is out there doing what Iso very much believe in and in some cases wasn't really sure what was safe to do and use with the birds.
We have used homeopathic remedies, tissue salts, and bach flower remedies for nearly 30 years, we've been feeding organic for a long long time, at least 18-20 years and we are not making trips to the vet for sick and unhealthy birds.
Now I need to get them on to all natural wood. I've started that migration to undyed wood and trying to start a handmade bird toy business for all natural products. I'm having difficulty finding appropriate suppliers for some of the items I want. Fingers crossed that will work out.
Thank you again so very much, I am grateful for all you do!
Keep up the amazing work!"                                                   
Cindy S. - PA
"I now have a healthy 10-year-old Quaker parrot, named Frankie, thanks to Machelle. When she turned 5, she started showing spots on her beak, which was the cause of high cholesterol and fatty liver disease. We had many trips to the vets and nothing seemed to help her until we met Machelle and really focused on her diet. Once we made the changes to her diet, I noticed that her beak cleared up very quickly, she regained her energy and became very healthy.
Machelle has offered her knowledge and research openly and honestly, she is incredible and generous with her time and the commitment that she has dedicated to me and my bird's health will forever be appreciated. One can only be so fortunate to experience the relationship that you build with these creatures, and we only have Machelle to thank for that." 

                                                                                                      Brigit L. - Ontario
"I thought you might like to hear that our feather picking Eclectus with ABV is have his first well formed healthy poops since we adopted him in 2000! Thank you!"
Kimberly D. - FL
"I'm sure you guys hear it a lot but just wanted to let you all know, so far, I'm super impressed with everyone and everything involved with TBBF. The customer service has been great and everything down to the packaging and included fun little toyswas awesome. I'll slowly be transitioning my female Ekkie over to the Eclectus Diet over the next couple of weeks and am really looking forward to it. She's 15 and only came to me a year ago and it's been a lot of work to get her to eat anything healthy. I have high hopes for this stuff and my Cockatiels/Lovebirds already love their new food as well. They're diving right in. Thank you again for your efforts and providing such awesome products! My roommate saw the stuff coming out of the box and went right and ordered some sprouts for her Ringneck. Two new happy customers!"
~Susan N. -CA
"WHAT A DIFFERENCE __THANK YOU --- Amazing--Our Congo Greys have been on Harrisons diet their 17yrs.
Immediately, without hesitation or growling (lol)--they started to enjoy Origins Wild Diet. We also have a beautiful 3year old female Eclectus. She just joined our small flock. Knowing the diet requirement differences, we are so Happy to find Origins Wild Diet Eclectus. As with our Greys, without hesitation, IMMEDIATELY, with her VERY HAPPY COOOO, enjoyed her new Origins Wild ECLECTUS Food. ---
Thank You, Hana, Mizan, Rubyand David"
~David B. -MT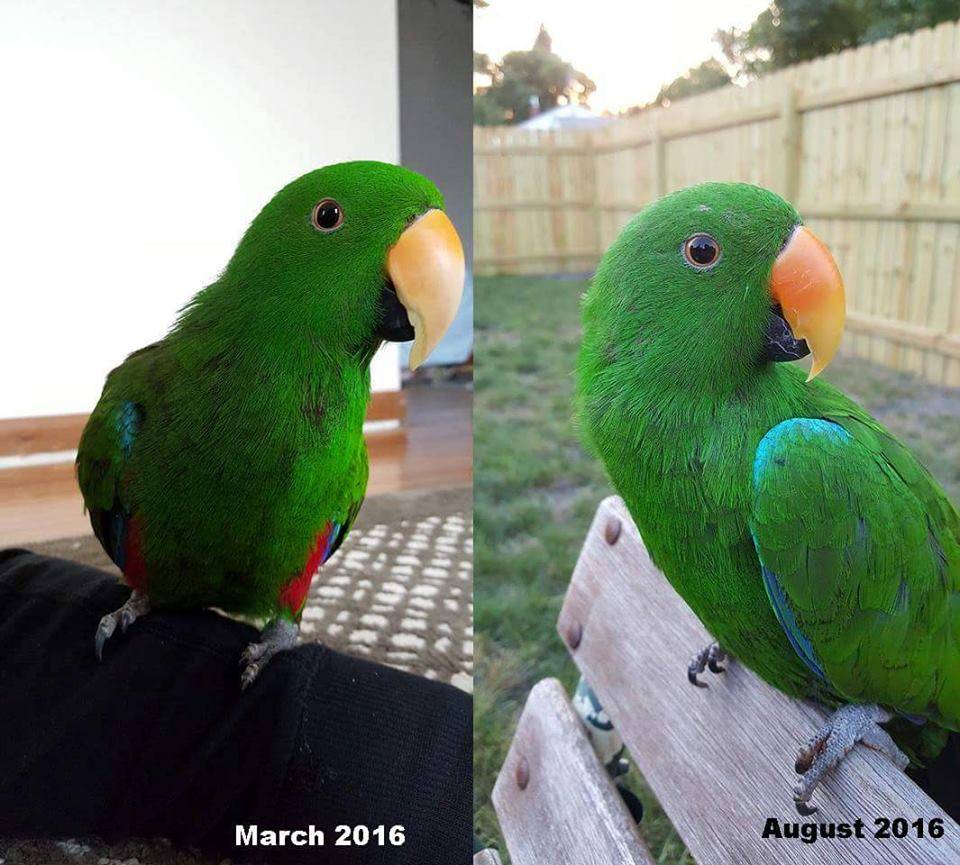 "This is "Sidney" from N. Dakota. Need we say any more? Look at the change in color of his beak!
This is what feeding Origins Wild Diet along with fresh tropical fruit, tender greens and sprouts can do for a bird on the outside!
Can you imagine what is taking place on the inside of Sidney? Wow!"
Sidney's caregiver: Casey B.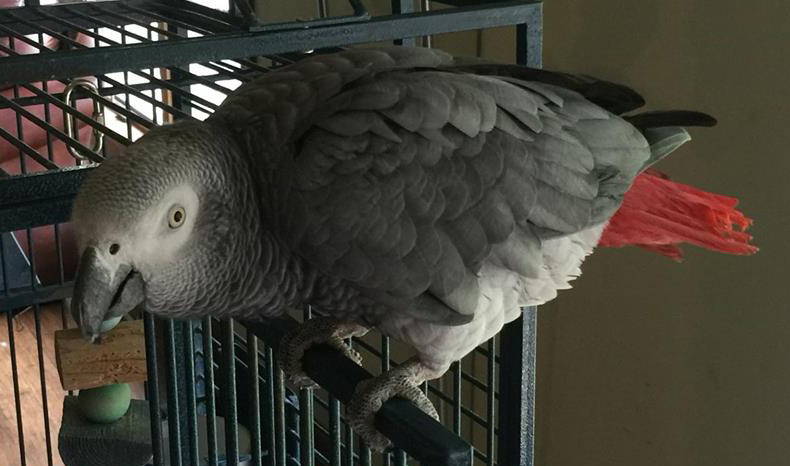 Meet "Mickey" whose caregiver "Adrienne" said that her family recently visited and noticed how much Mickey's feather color had improved since they visited last. This has taken place just since Adrienne began feeding African Grey Origins Wild Diet as Mickey's main staple food!
"Our plucky Eclectus has been now been off all medication for the last year while on Origins Wild Diet Better Feathers and/or Birdie Brittle. At the 2 year point related to his diagnosis of Avian Bornavirus, he has gone from extremely sad, grumpy, and chewing his blood feathers back to his sweet, old happy and talkative self. He is generating new feathers again. (He had all but stopped producing feathers while on medication.) He still barbers his feathers, but is no longer worrying his blood feathers, and allows an occasional new feather to stay.
Though he still has some intestinal swelling, he no longer has a potbelly. He is doing great for a 25 year old bird that has been plucking since he was 2 and spent the first 8 years of his life being passed around like a football from owner to owner.
Thank you so much for the time, energy and expertise you put into Origins Wild Diet. Your support of my sweet Eclectus and the rest of our aging flock is truly appreciated. I'm not sure what I would have done without you."
Kimberly D., FL
"Machelle, a minute to thank you for all your hard work. I received my first order yesterday and I am very pleased with it. I actually am glad you go to such length to provide great organic food for our birds-"
Diane E., CA
"Thank you somuch ! My maleecelctus,Patrick ,has feathers this year! What an amazing difference in him since he has been on your wonderful diet!!!I Rescued him 20 months ago and he had been alife long plucker. We love your products..."
Aimee C.- NY
"...I have to compliment you again. I wish I had a video. My lovebirds love this food. One of them even holds the chunks in his foot to eat it. I've never seen that before. I know you are very busy but I needed to say it again, thank you."
Sandy M. - FL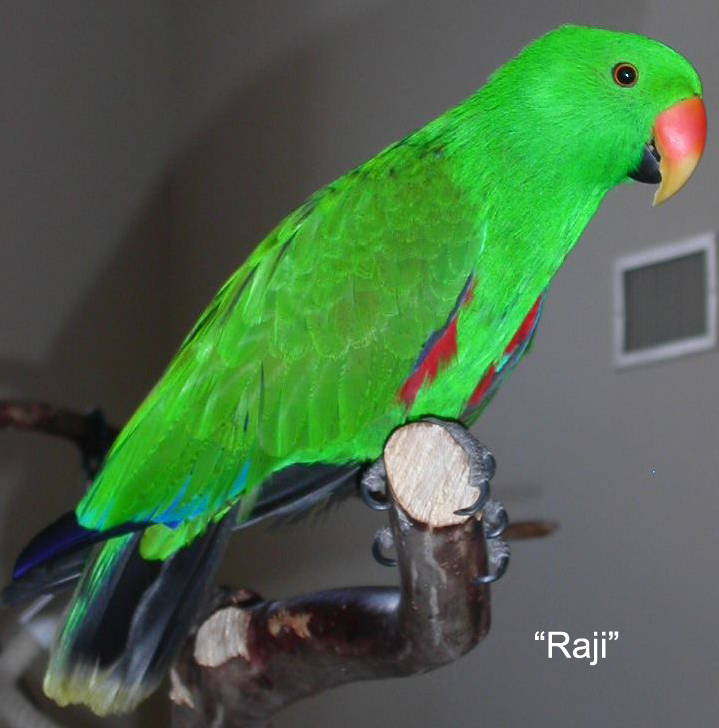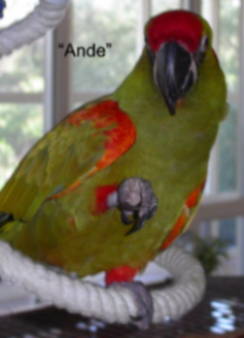 "After 8 years of feeding my Eclectus and Red Front Macaw the wrong food, the changes I have seen in them since we switched to Bird-elicious have been amazing.
Their feathering is beautiful, vivid and bright, beak color is perfect (Eclectus candy corn beak), eyes are clear, and they have boundless energy. It's been a huge relief to finally find the "right" diet, thank you, thank you, thank you!"
Wendy W. -TX
"You are the best! Just so you know, my new Cape parrot immediately gobbled your food and I was able to immediately transition her off the less than ideal diet she came to me on! I quickly saw her weight/body mass improve - yay!"
Susan A -NJ
"Machelle and George have given me hope for my feather chewers with their laboratory tested organic bird food. I have two parrots who eat it with gusto and are healing from the inside out!"
Netia T -FL
"I have a special needs parrot who loves Bird-Elicious food, toysand perches. My vet is amazedwith the improvement in her health since we changed to these products. This is a company you can trust."
Laurie L -CA
"I want to thank you for your help with my feathers child. I took him for his 6month check up Thurs and he received his best report so far. The vet was very pleased with his feathers and their beauty. He also said that he could feel some muscle beginning at the keel and it was not as prominent as in the past!! Thank You so much!!"
Anne W. - AL
"My feathered friend had developed some feather picking behavior which she had never done before, but changing her diet to BirD-elicious! Origins Wild Diet has almost stopped that.   I am very grateful for all the info I have gleaned from your site."
Bart T -TX
"...the flock is now completely and happily converted to Origins Wild Diet. They do not waste a morsel!
Our Eclectus feather destroyer's, journey has been difficult but rewarding. He did go through a tough stage where he was very weak and lost coordination. His new feathers were coming in all colors of the rainbow and were Brittle and weak. He was destroying the blood feathers for the first time. But we stuck with it. He is now his old strong vibrant albeit still naked self. He is generating a few new healthy feathers and no longer worries the blood feathers. The most amazing sign that he is doing well is that his crop now fills when he eats as the chronic swelling of his intestines, diagnosed as due to Avian Bornavirus, is much less. He no longer has a visible potbelly.
Our aging mustache parakeet (20+) diagnosed with liver disease, is thriving and completely off medication. The medications were not helping and were exacerbating the rapid growth of a fatty tumor that was impacting her movement. She had been on a vet prescribed strict organic seed diet but was losing weight. She was literally starving to death and did nothing but scream. In desperation, I switched her to Origins African Grey. We are supplementing Liver Pur, milk thistle seed and powder in addition to Origins diet. Her feather quality and colors are now vibrant. Her beak is firming up. She also had a rapidly growing tumor that has shrunk from the size of a golf ball and almost disappeared. She now spends her time singing and playing. Thank you.
Our two old arthritic birds, a 60+ year old Amazon and a female Eclectus (15 with traumatic injuries and birth malformations), are also showing some relief in the form of increased activity and elevated mood related to the use of Supple Pur and turmeric. Our female Eclectus now only asks for pain medication at bedtime and sometimes she forgets to ask at all. The Amazon had never been able to tolerate pain medication or anti inflammatory drugs.
We also have a younger Blue Front Amazon who had since rescue from the wild had dark bars on her breast feathers even after a good molt.
After only six months of actually "accepting" and eating Origins she is producing brilliant green feathers without bars. We couldn't be more pleased.
Thank you for all you do. Without your dedication and knowledge we would probably have lost three members of our little flock of five to nutrition related illness. All the research related to the Avian Bornavirus indicated it is a terminal illness that most birds succumb to within 6 weeks of diagnosis. Our male Eclectus is going on over two years. The vet said he has had it his whole life. He has plucked since he was two.
He is now 28, statistically a ripe old age for a captive Eclectus. We were lucky enough to recover his early medical records after he came to us in 02. Maybe someday he will even allow a feather or two to stay in place. Eitherway we know he is responding very well to Better Feathers!Keep up the amazing work!"
K.D. - FL
"Since placing our sanctuary birds on the OWD we have seen such an improvement in their eating habits, attitudesand poop! Our Eclectus, Jeb,who's favorite place in the world is on Ryan's shoulder, will FLY AWAY and back to his cage when I put in fresh OWD!
Our mutilator, Mia, is now PREENING instead of mutilating, and this is only the beginning. The customer service we have experienced has surpassed all expectations. We are so grateful for OWD and Machelle. We are excited to see the improvements our sanctuary birds make on a daily basis!I can not tell you how pleased I am with everyone eating so well; they have also never gone to the fresh like they are!!"
N. Helmer
Sonny Boy Animal Sanctuary
WI
"Nick (African Grey) has not let his tail feathers or flights ever grow out since he was about 3 years old! He turned 21 last November.
He has been onMachelle's detox and diet plan/program for [2 years]. Patience, persistence and adhering strictly to the program pays off!"
Jeannie Thomason
Veterinary Animal Naturopathic
"Harley (Macaw) is doing well. Poop looks good, even new pin feathers. Almost never does he puke anymore. Thanks for this diet so much." -
Tammi V. - ND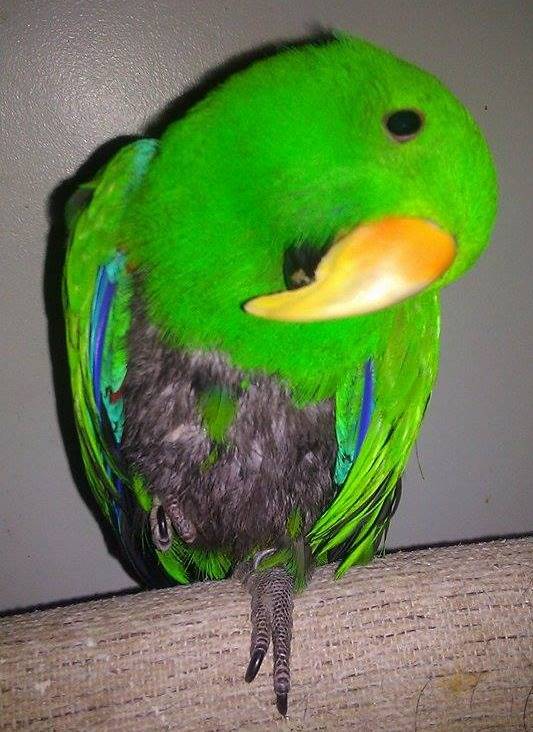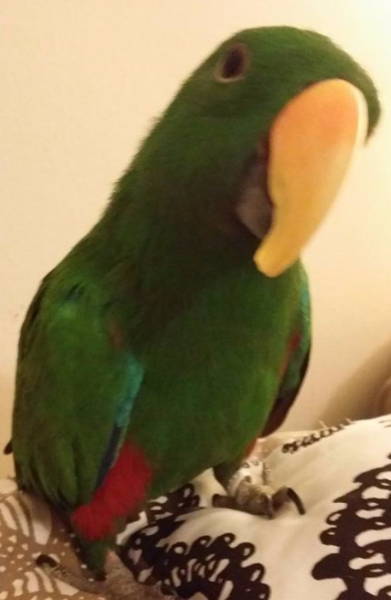 Mambo was diagnosed as positive for PDD.
Struggling with his health and vitality Nancy decided to try our Eclectus food for Mambo.
While our food will not cure Mambo, it has given hope for a better life for Mambo.
"BirD-elicious! Eclectus blend has been an absolute life saver for both myself and my Ekkie Mambo.
Since he has been eating this blend he has stopped plucking his feathers and is now fully feathered!"
Nancy of Feasterville - PA
"When you know better you do better."
~Maya Angelou
And that is what we try to accomplish!
Here at BirD-elicious!™ Origins Wild Diet™ we attempt to keep educating ourselves so that we can make our
products better and better as new research information becomes available!